Adding contacts to list one by one?
If you only have a handful of contacts to add to your list, you can use the "Add Contacts" form to add them in manually.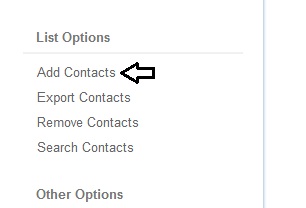 To add contacts by typing them in, click the "Add a Contacts" option appear left side under the lists page.

Choose a list to add contacts to and click the "Next >>" button. Fill out the form by typing in their email address and values for any custom fields you've created for the contact list.


Complete the form to add a contact to the selected contact list.


When you're done, click "Save" to save the contact to the contact list and add another contact. Clic "Save And Exit" to add the contact and return to the main page of the system.