Live Chat!
Sales & Support

MON - SAT 10:00 AM - 6:00 PM IST
Navigation
Google Analytics integration
What "Google Analytics" integration does is to track your links, and add "Google Analytics" specific code to the links so you don't need to add those tracking code manually.

"Google Analytics" itself must already be integrated on your website in order for the link to be tracked by Google (http://www.google.com/analytics/).

So for example you got a newsletter that have a link to your website listed here:
- http://somesite.com/aboutus.html
- http://somesite.com/contactus.html
- http://somesite.com/ourlocation.html

What Mail Marketer does when "Google Analytics" tracking is enabled is to add these variables Google required to the link, so the link will become:
- http://somesite.com/aboutus.html?utm_source=MailingList&utm_medium=email&utm_campaign=Generictest
To enable "Google Tracking", you must have "Link Tracking" enabled. You can then see the "Google Tracking" option
in the sending page (the page where you confirm your newsletter sending) under "Link Tracking" option.
(See Screen Shot for more details).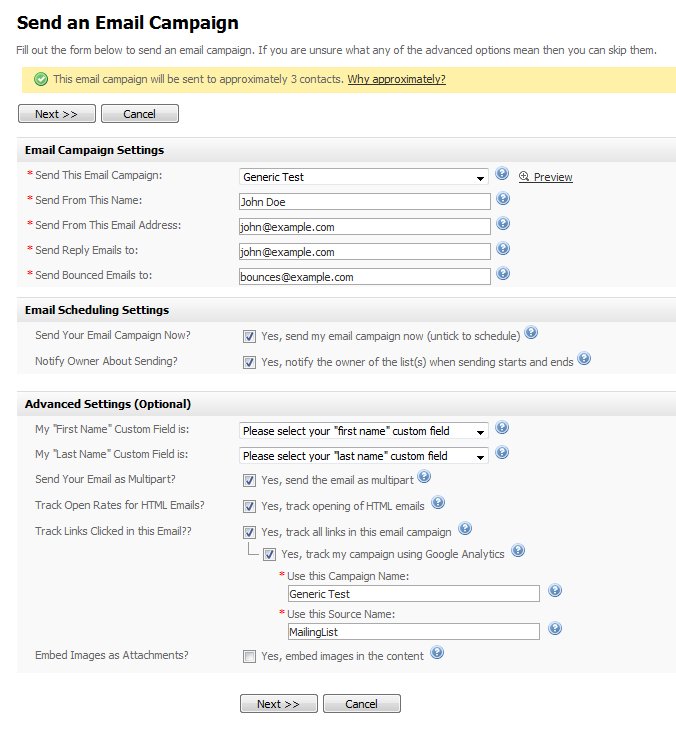 While in "Google Analytics" page itself, you can view your campaign stats by going to the "Traffic Sources" (refer to screen shot below)