You Are Here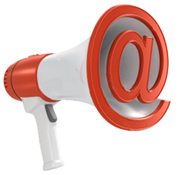 Web-based email marketing service providers
Better email delivery & monitoring
Professional html email templates included
Easy-to-use email designer with HTML code
Real-time email tracking & reports
Automated bounce processing & suppression
Instant account setup & Live chat support
Sending direct marketing emails needs an email service provider who is reliable, has feature-rich email marketing tool and vast experience in email delivery. We have been handling email delivery since 2008 and have vast infrastructure to successfully deliver email campaigns size of few thousands to lakhs. Our email marketing service have become an essential tool of many modern email marketers as well as small businesses
30 Days Free Trial
Fully functional. Credit Card not required. No obligation. Instant setup.
Regular email marketers
Monthly & Pay-As-You-Go plans
Our email marketing service includes unbeatable features
+ Built-In Spam Checker
Analyze emails for known spam keywords and know what needs to be changed, so your email stands a better chance of inbox delivery.
+ Built-in Email Templates
Your account includes 30+ professionally designed HTML email templates, which can be customized using the WYSIWYG editor.
+ Newsletter Signup Forms
Easily create customized signup forms with your company's color scheme and get the HTML code to add to your website.
+ Email campaign schedule
Email campaigns can be scheduled on your preferred date and time. This comes handy for time critical campaigns or when you want to break down large email campaigns.
+ Automatic Bounce Handling
Bounces are handled automatically and the reports shows when and why the email bounced, with an exact error message from the email provider.
+ Easy, Automatic Unsubscribe
It's easy to add an unsubscribe link to your email campaign. Unsubscribe requests are processed automatically giving you & your subscribers peace of mind.
Our email marketing services allows you to send from simple email newsletters to complex email campaigns addressed to thousands or even lakhs of subscribers. We believe that Mail Marketer is a powerful, fully featured and easiest to use email marketing service you'll find.
To evaluate our best email marketing service, please sign up for your 30 days free trial or contact us via phone with your requirement. 30 days free trial or contact us via phone with your requirement.
Testimonials
Better Email Marketing Service
We were looking for best email marketing Service and have been working with Mail Marketer in India for over a year and we were able to achieve improvements to our clients' email marketing ROI. It's simple to use and makes it easier for us to send multiple large email campaigns and we rely on them for email marketing Services .
To learn more about Mail Marketer email marketing services, please sign up for your